We Create Customer-Centric Solutions
Our teams are driven to improve and enhance interpersonal and patient experiences across industries. We provide more than just call centers – we go beyond them to provide top-tier customer service, patient experience support, and healthcare provider engagement that exceeds expectations.
Our Values Celebrate Human Connection
Heart
We believe in putting people first. Everything we do is designed with the customer in mind.
Mind
We believe in the power of technology to change the world and we are always looking for ways to use it to make a positive impact.
Purpose
We value transparency and integrity, and we are committed to being a force for good in the world.
Our Mission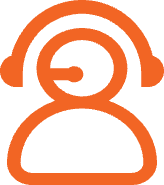 Alphanumeric's mission is to achieve a higher standard in patient care. We provide contact center, digital transformation, and technical services support to our partners that increase their customer engagement, and overall satisfaction, and build a more aware, empowered, and engaged customer.
Company History
Alphanumeric Systems Inc. started in 1979 as an IT Services company. Over the last decade or so we've transitioned into a life science industry partner that provides a wide variety of expertise and service offerings to enhance and support how our clients engage and connect with patients and healthcare providers. We focus on three key areas of support, end-to-end contact centers (set-up, support, and engagement), technical support (medical writing, training, education, digital transformation, advisory, and more), and implementation of efficient tools that create customer-centric solutions.
Why Work for Us
Do you want to make your mark on the world? Do you want to help businesses achieve their goals and objectives? If so, you should consider working for us.
We believe that our employees are our most important asset and we work hard to create an environment where they can thrive. If you are looking for a challenging and rewarding career, we would love to hear from you!