It's inevitable that patients will turn to online channels to engage directly with your company.
That's why investing in social media monitoring to ensure compliance is a must.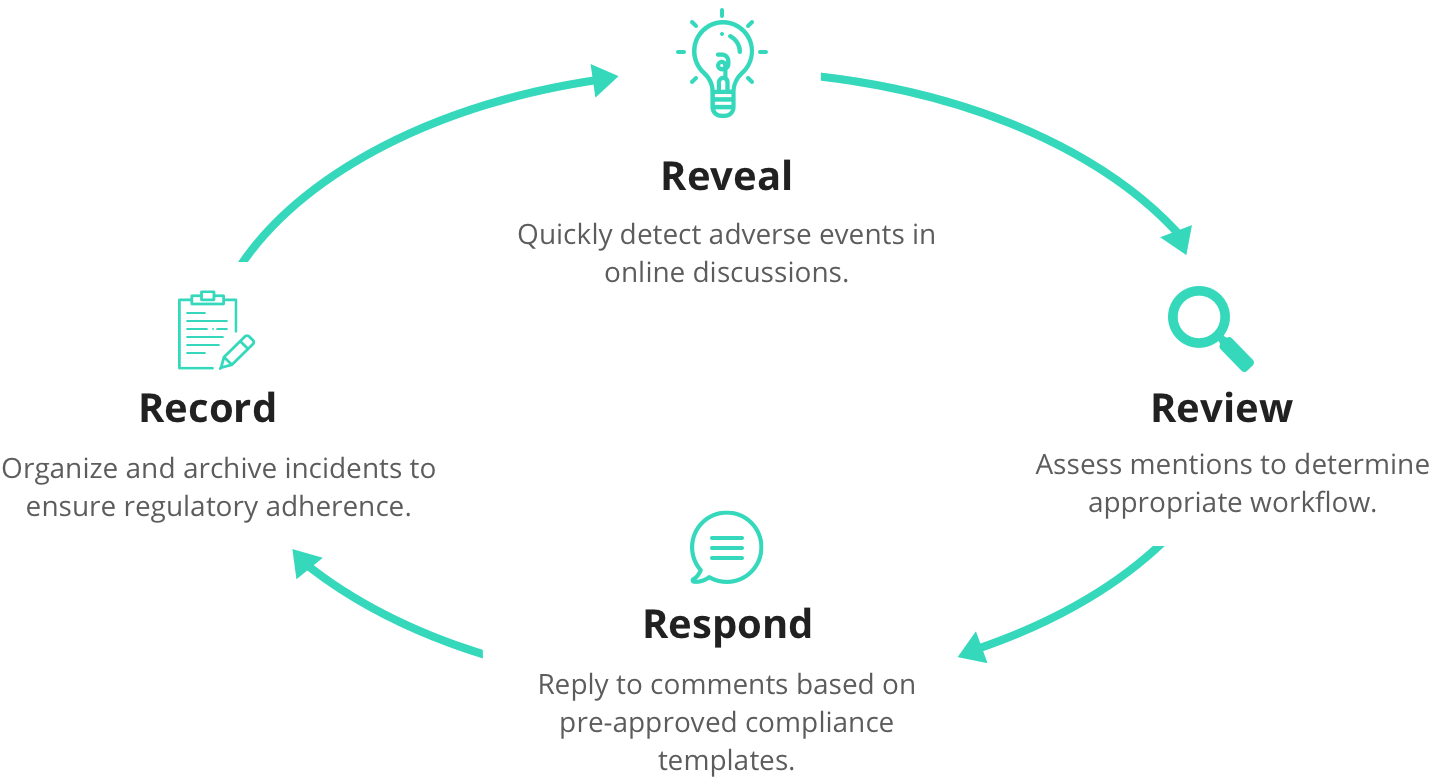 Protect your pharmaceutical brand and drive product development by monitoring adverse events and product mentions online.
See how 
Proven, customizable process
By combining social media monitoring with intelligent automation, you can provide solutions to your customers' concerns through a flexible and user-friendly self-service response center.
And, if the patient needs additional assistance, the case can be triaged to the appropriate team.
Reveal
Using a robust social media monitoring tool, we reveal a comprehensive view of your brand mentions across channels.
See every comment, post, and product review on the channels your patients frequent and that matter most to your brand.
Review
Using a pre-approved moderation strategy, we review each mention and assign an appropriate follow-up workflow.
You'll control the appropriate handling of each case so your patients feel that branded touch during each interaction.
Respond
Then, using an industry-rich team of pharma experts, we respond to patients with approved on-label replies.
Each response is handled by a trained Pharm.D., R.Ph., RN, or Patient Assistance Representative that specializes in your vertical.
Record
Lastly, using industry standard regulatory guidelines, we record the event and escalate to a pharmacovigilance team for review and action.
You'll have archived adverse events that can be used to drive product development and measure campaign effectiveness.
3 Steps to Launching Social Media Monitoring in 30 Days
Whether your pharmaceutical brand has been on social media for years or you are launching a digital campaign for the first time, we can help you engage with patients safely and efficiently.
Your goals are the North Star
Analyze current social media presence and contact center data
Understand creative concepts, expected reach, time in market, and engagement volumes
Create accurate timelines and resourcing cost estimates
A tailored response and moderation strategy
Create pre-approved, compliant replies and workflows for specific scenarios and questions
All adverse events are escalated to the appropriate regulatory or legal department
Outline the management of comments with inappropriate content
Go live, respond, and archive
Go live with online monitoring and campaign launch
Categorize, reply, triage, and store for full historical reporting and compliance
In the thick of it, or just getting started, we can help.
We can get you fully up and running in 30 days.
Or if you want to start small, we can create a roadmap that will analyze your current social media presence and contact center data that will give you a path from here to there.
Request offer 
Complexity doesn't phase us.
Whether we're designing a desk with a diverse staff made up of specialists, generalists and everything in between, or diverse customer segments being served by the same contact center and agents, we've got this.
Neither do tight timelines.
We've been known to spin up a new contact center in a new country in as little as 30 days.
Start making your vision a reality